October 31st, 2012 (Vancouver, BC) – Freegold Ventures Limited (TSX: FVL, Frankfurt: FR4N) ("Freegold") is pleased to report the results of a NI 43-101 compliant Mineral Resource estimate recently completed on the Golden Summit Project located near Fairbanks, Alaska. The resource estimate was completed by Giroux Consultants Ltd. of Vancouver, BC, Canada. The indicated and inferred resource using a 0.3 and 0.35 gram/tonne (g/t) cut-off is: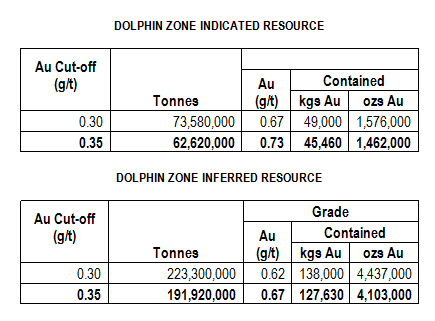 The mineralized Dolphin Solid has increased in volume by 254 % over the one used in the 2011 Estimate (Adams, Giroux, 2012). It has been deepened and extended to the north east to include the Cleary Hill area. This update of the 43-101 resource reported in January 2012 (Adams and Giroux, 2012) was based on an additional 74 drill holes completed in 2012 and an extension of the mineralized zone to the north and east. As a result the number of holes within the mineralized solid increased from the 77(11,802m) used in the 2011 estimate, to 177 (35,829m) for this update.

The resource was calculated using a block model with blocks measuring 10 by 10 by 5 metres in size that were populated using a combination of ordinary kriging and indicator kriging; blocks within the Dolphin mineralized solid were summed to arrive at the total tonnage and average grade. In the following table, a 0.30 g/t and 0.35 g/t are highlighted as possible open pit cut offs. No economic parameters were utilized in determining the cut offs.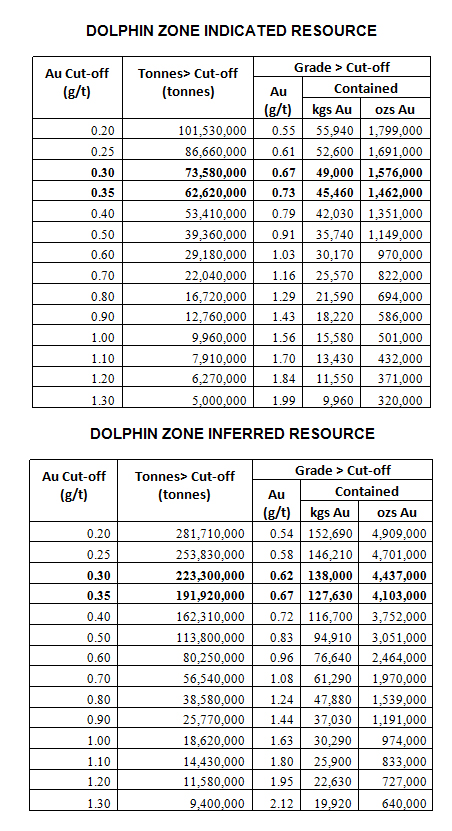 The Qualified Person for this release is G.H. Giroux, M.A.Sc., P.Eng., who has reviewed and approved the contents of this press release. The mineral resource estimate has been prepared in compliance with the standards of NI43-101. Mr. Giroux acted as the Qualified Person, as defined in NI43-101 and is independent of the Company. The NI43-101 report will be finalized and filed on SEDAR within 45 days of the date of this news release.

Drilling at Golden Summit is expected to recommence in early January with two rigs. One rig will be focused in the Dolphin/Cleary Area as it remains open to expansion in several directions.

About Freegold Ventures Limited

Freegold is a TSX listed company focused on the exploration of gold projects in Alaska. In addition to the Golden Summit Gold Project, the company holds a 100% in lease interest in the Rob Gold Project near the Pogo Gold Mine in the Goodpaster Mining District of Alaska and has an exploration agreement with option to lease the Vinasale Gold project in central Alaska.


Kristina Walcott-President and CEO
Telephone: 1.604.662.7307
jkw@freegoldventures.com

Some statements in this news release contain forward-looking information, including without limitation statements as to planned expenditures and exploration programs. These statements address future events and conditions and, as such, involve known and unknown risks, uncertainties and other factors which may cause the actual results, performance or achievements to be materially different from any future results, performance or achievements expressed or implied by the statements. Such factors include without limitation the completion of planned expenditures, the ability to complete exploration programs on schedule and the success of exploration programs