Shorty Creek lies approximately 125 road km northwest of Fairbanks, Alaska (~ population 100,000) and 4 kms to the south of the abandoned mining town of Livengood and the all-weather paved Elliott Highway.
Freegold acquired Shorty Creek after completing a data review that suggested the project had the potential to host a series of copper-gold porphyry deposits. Exploration since 2014 has included ground geophysics, geochemical surveys, and diamond drilling.
In 2015 Freegold completed its initial drill program. The program discovered copper mineralization in association with a 1,000 metre x 750 magnetic high at Hill 1835. Three holes were drilled and Hole SC 15-03 intersected 91 metres grading 0.55% copper, 7.02 g/t Ag, and 0.14 g/t Au.
Since 2015, 12 holes have been drilled into the Hill 1835 target area, with each hole returning broad zones of copper, gold, silver and tungsten mineralization.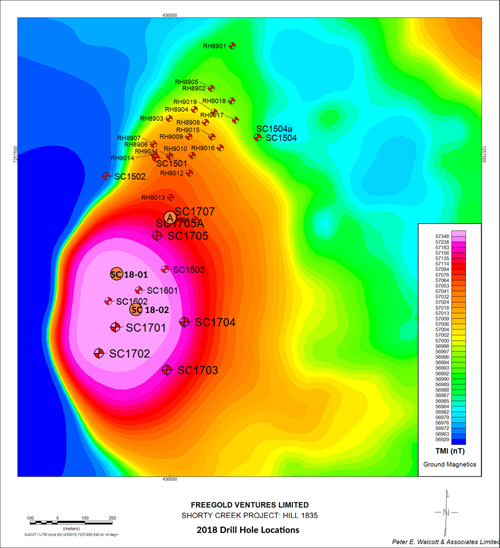 Hill 1835 is only one of the potentially significant areas at Shorty Creek.Similar to many significant porphyry districts, a large zone of several other target areas has been identified with an area of nearly 10 km in diameter, including the large 6km long magnetic feature on Hill 1710.
In addition to the targets at Hill 1835 and Hill 1710, targets that remain to be tested include Quarry and Hill 1890. Further drilling is also warranted on Hill 1835, Hill 1710 and Steel Creek.