Shorty Creek lies approximately 125 road km northwest of Fairbanks, Alaska (~ population 100,000) and 4 km to the south of the former mining town of Livengood and the all-weather paved Elliott Highway.
Freegold acquired Shorty Creek after completing a data review that suggested the project had the potential to host a series of copper-gold porphyry deposits. Exploration since 2014 has included ground geophysics, geochemical surveys, and diamond drilling.
In 2015 Freegold completed an initial drill program. The program discovered copper mineralization associated with a 1,500-metre x 1,000 magnetic high at Hill 1835. Three holes were drilled, with Hole SC 15-03 intersecting 91 metres grading 0.55% copper,7.02 g/t Ag, and 0.14 g/t Au.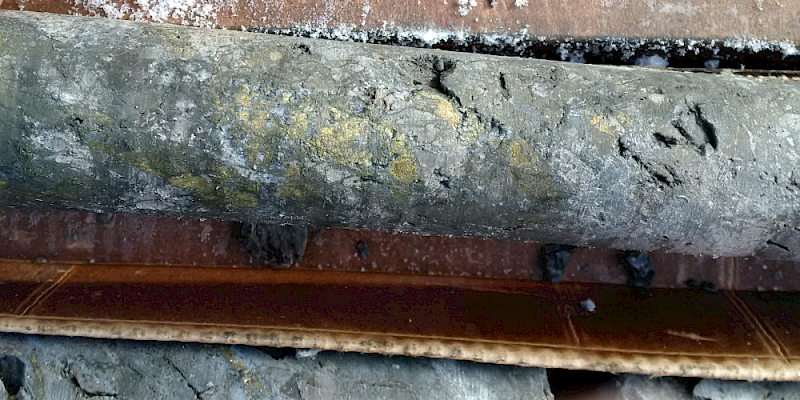 Shorty Creek Hill 1835 SC1503
Subsequent drilling in the Hill 1835 target has intersected copper mineralization as chalcopyrite within quartz stockwork veining hosted in shale/siltstones and as fine disseminations and blebs primarily along bedding planes, with the copper mineralization appearing to be associated with the magnetic high.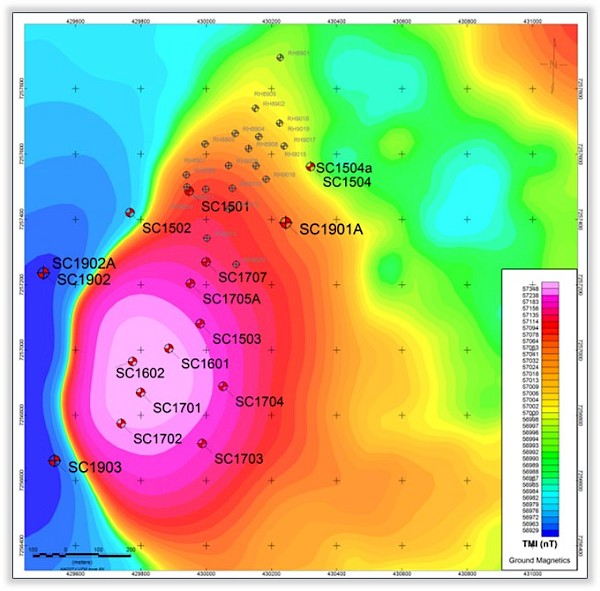 Hill 1835 is only one of the potentially significant areas at Shorty Creek. Similar to many significant porphyry districts, a large zone of several other target areas has been identified with an area of nearly 10 km in diameter, including the prominent 6km long magnetic feature on Hill 1710.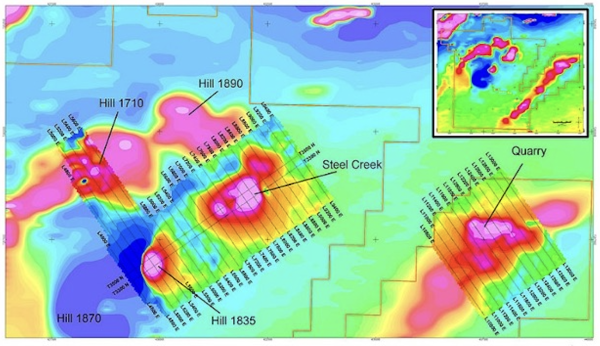 In March 2019, Freegold announced it had entered into an Agreement with a wholly owned subsidiary of South32 Limited (South32) whereby South32 had the option to earn a 70% interest in the Shorty Creek property by funding a four-year US$ 10 million option period. Following the option period and by subscribing to 70% of the shares of a newly formed project company by committing US$30 million to the newly formed company, less the amount of exploration expenditure contributed by South32 during the option period could have earned 70%. Between 2019 and 2022, South32 expended just under US$ million and completed nearly 5,000 metres of drilling as well as additional induced polarization, ground magnetics, and geochemical sampling programs. The 2019 drilling program consisted of five holes (1,542m), three of which were abandoned before reaching target depth. No field programs were completed in 2020 due to COVID19 considerations.
In 2021, eight widely spaced holes totaling 3,397m were drilled on the property. They provided a limited test of the areas outside of the Hill 1835 area, where Freegold previously focused its attention. The Hill 1835 area covers a 1,000 metre by 1,500 metre target area with copper mineralization associated with the magnetic high.
2021 Summary:
Two holes were drilled in the Quarry target (SC2101, SC2102). The Quarry target tested a portion of the approximately 8km long magnetic anomaly.
SC2103, was drilled 350 metres northeast of SC1901A. This hole was designed to test an IP chargeability high and coincident magnetic low. SC1901A, drilled on the northern edge of the Hill 1835 target area intersected 99.1 metres of 0.29% Cu, 0.014 g/t Au, and 1.61 g/t Au.
Hole SC2104 was drilled 500 metres northeast of SC2103 and was drilled within the chargeability high and flanking the Steel Creek magnetic high.
SC2105 through SC2107 were drilled in the Steel Creek area. The holes were all drilled within the weaker portion of the magnetic high at Steel Creek.
SC2108 was drilled in the IP chargeability high, flanking the magnetic high at Hill 1710.
No economically significant mineralization was intersected in the 2021 program, and subsequently, South 32 has provided notice that they have elected not to continue with the Option Agreement, and accordingly the option Agreement has been terminated.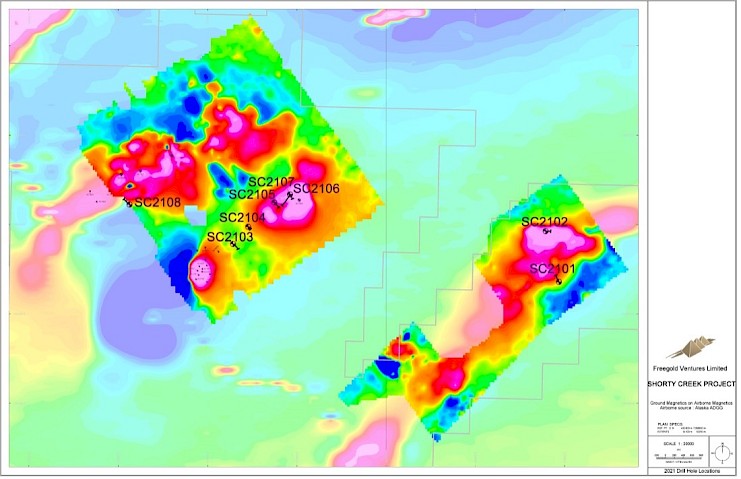 The work funded by South 32 over the last three years provided an additional understanding of the mineralization at Shorty Creek, however, much of the work focused on areas outside of Hill 1835 where Freegold had previously focused most of its attention. Additional work by Freegold will focus on Hill 1835 and on other geochemical anomalies which are supported by geophysics.