October 28th, 2010(Vancouver, BC) – Freegold Ventures Limited (TSX: FVL Frankfurt: FR4N)("Freegold") is pleased to report assays from its Vinasale Project, in southwestern Alaska. A total of 6 holes were drilled during the program for total footage of 6,386 feet (1,947m). The program was aimed at expanding the known resources as well as testing weaker geophysical anomalies to the northeast of known mineralization. Significant results are reported as follows: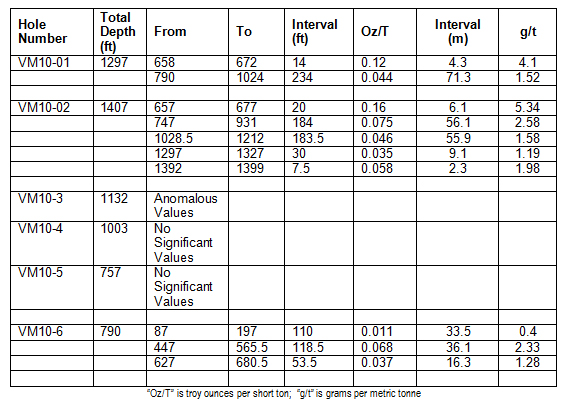 Hole VM10-01 is the northern most hole drilled in the Central Zone. The hole intersected the mineralization approx 100 m west of the previously drilled VM94-26 which was a vertical hole drilled to a depth 500 ft and was the last hole drilled on the project prior to this year. Hole VM94-26 intersected the mineralized zone from 368 ft to 458 ft (90ft @ 0.066 oz/t) (27.4m @ 2.28 g/t). The results of VM10-01 have confirmed the previous intersection and extended the mineralization to a vertical depth of 886 ft.

Hole VM10-02 was collared approximately 60 metres southwest of hole VM 10-01. The hole was aimed at confirming and extending mineralization downdip from hole VM94-13, which was drilled to a depth of 930. Hole VM94-13 intersected the mineralization between 95 – 870 ft (775 ft @ 0.048 oz/t) (237.7 m @ 1.64 g/t). Hole VM10-02 confirmed results of the previous drilling and extended the mineralization to a vertical depth of 1,212 ft.

VM10-3, 10-04 and 10-5 were aimed at testing weaker geophysical anomalies. Anomalous values were intersected in hole VM10-03.

Hole VM10-06 is a vertical hole terminated at a depth of 790 ft. It was drilled 50 metres west of hole VM94-26, and confirms mineralization to the west and to the north of that hole.

To date mineralization in the Central Zone extends over a length of 400 metres and remains open to the north, south and to depth.

About Vinasale:

The Vinasale Project is located approximately 310 kilometres northwest of Anchorage and 26 kilometres south of McGrath. Access to the Project area is by helicopter from a base in McGrath, and there are daily commercial flights from Anchorage to McGrath. Freegold entered into a Mining Exploration Agreement with an Option to Lease the Vinasale Project from Doyon Limited, an Alaskan Native Regional Corporation in 2007.

A historical resource of 925,000 ounces of gold (14.5 million tonnes grading 1.95 grams/tonne) was estimated for the Central Zone by Derry Michener, Booth and Wahl (1994) as part of a Prefeasibility study. (Note that the resource figures are historical in nature and are provide for information purposes only; they are not NI43-101 compliant and as such should not be relied upon).

ALS Chemex was used to analyze 836 core samples via fire assay analysis for gold plus multi element ICP-AES and ICP-MS analysis using 4 acid digestion. Quality control entailed insertion of 27 blanks and 74 standards into the sample stream, at the rate of approximately one QA/QC sample every tenth assay, yielding approximately 12% of the total assays. On average all of the reported standard and blank assay values were within an acceptable margin of error.

David Adams, Msc is the Qualified Person responsible for the technical disclosure contained in this release.

About Freegold Ventures Limited

Freegold is a TSX listed company focused on the exploration of gold projects in Alaska. In addition to the Golden Summit Gold Project, the company holds a 100% in lease interest in the Rob Gold Project near the Pogo Gold Mine in the Goodpaster Mining District of Alaska and has an exploration agreement with option to lease the Vinasale Gold project in central Alaska.

For further information:
Kristina Walcott-President and CEO
Telephone: 1.604.662.7307
jkw@freegoldventures.com
This press release contains forward-looking information. This forward-looking information includes, or may be based upon, estimates, forecasts, and statements as to management's expectations with respect to, among other things, anticipated future financing. Forward-looking information is based on the opinions and estimates of management at the date the information is given, and is subject to a variety of risks and uncertainties and other factors that could cause actual events or results to differ materially from those projected in the forward-looking information. These factors include uncertainties relating to the availability and timing of such financing and other factors. The forward-looking information contained herein is given as of the date hereof and the Company assumes no responsibility to update or revise such information to reflect new events or circumstances, except as required by law.