Shorty Creek lies approximately 125 road km northwest of Fairbanks, Alaska (~ population 100,000) and 4 kms to the south of the former mining town of Livengood and the all-weather paved Elliott Highway.
Freegold acquired Shorty Creek after completing a data review that suggested the project had the potential to host a series of copper-gold porphyry deposits. Exploration since 2014 has included ground geophysics, geochemical surveys, and diamond drilling.
In 2015 Freegold completed its initial drill program. The program discovered copper mineralization in association with a 1,000 metre x 750 magnetic high at Hill 1835. Three holes were drilled, and Hole SC 15-03 intersected 91 metres grading 0.55% copper,
7.02 g/t Ag, and 0.14 g/t Au. Subsequent drilling in the Hill 1835 target has intersected copper mineralization that occurs as chalcopyrite within quartz stockwork veining hosted in shale/siltstones and as fine disseminations and blebs primarily along bedding planes.
Hill 1835 is only one of the potentially significant areas at Shorty Creek. Similar to many significant porphyry districts, a large zone of several other target areas has been identified with an area of nearly 10 km in diameter, including the large 6km long magnetic feature on Hill 1710.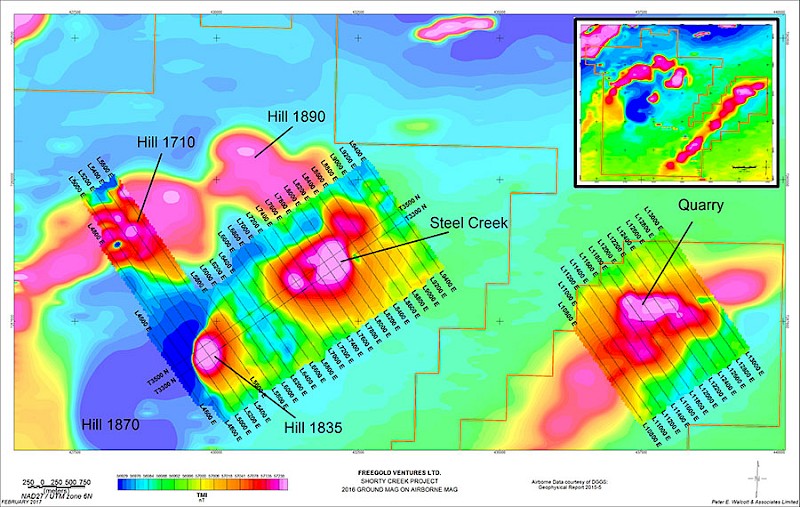 In March 2019 Freegold announced it had entered into Agreement with a wholly owned subsidiary of South32 Limited (South32) whereby South32 has the option to earn a 70% interest in the Shorty Creek property. To maintain the option in good standing South32 must contribute minimum exploration funding of US$10 million over a 4-year option period with minimum exploration expenditures of US$2 million in Years 1 and 2 and US$3 million in Years 3 and 4 for an aggregate of US$10 million. The minimum commitment for Year 1 (2019) has been met by South32. South32 may exercise its option to subscribe for 70% of the shares of a newly formed project company by committing US$30 million to the newly formed company, less the amount of exploration expenditure contributed by South32 during the option period following the completion of each annual program. Freegold will act as operator during the option period.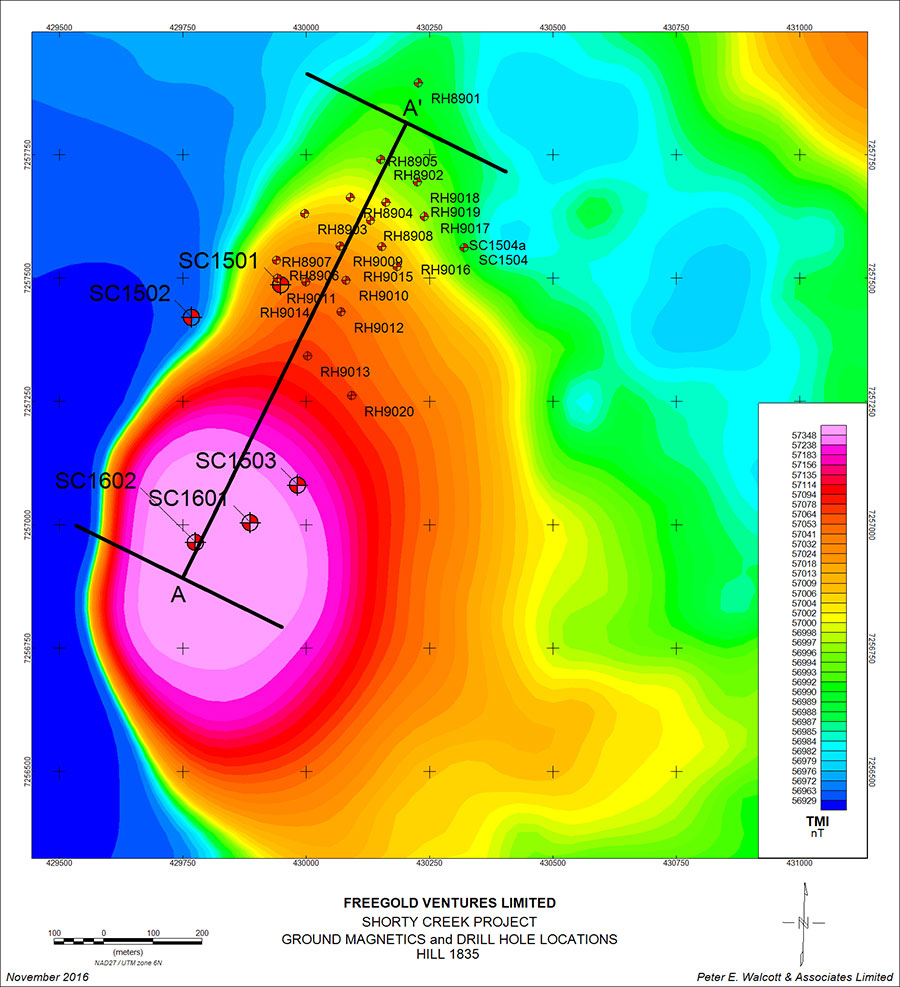 The 2019 program which was fully funded by South 32 consisted of 1,542 metres of diamond core drilling in five holes, three of which were abandoned before reaching target depth due to difficult drilling conditions. Hole #SC 1901A was completed to a depth of 336.6 metres and intersected 99.1 metres of 0.29% copper and 1.61 grams per tonne silver from 225.3 metres to 324.4 metres. This hole was drilled at the northeastern edge of the previously drilled area at target 1835 and was drilled to the southeast to test an area of higher chargeability previously not tested. This anomaly remains open to depth and continues to the east. Hole # SC 19- 03 was drilled at the southwestern edge of the magnetic feature at target 1835 and drilled to the south. This hole intersected 155.25 metres of 0.195% copper and 3.58 grams per tonne silver. This intercept is approximately 500 metres to the southwest of any previous drilling at target 1835 and remains open. Holes SC 19-02, 19-02A, and 19-04 were abandoned due to difficult ground conditions. In addition to the drilling, 100 km of induced polarization and 98 km of ground magnetic surveys were completed. A further 543 soil samples were collected to expand target areas for future drill programs.
In addition to the targets at Hill 1835 and Hill 1710, targets that remain to be tested include Quarry and Hill 1890. Further drilling is also warranted on Hill 1835, Hill 1710 and Steel Creek. Exploration in 2020 was aimed at target delineation, and in 2021 3,400 meters of diamond drilling were completed. Assays are pending.
Shorty Creek Drill Summer 2021